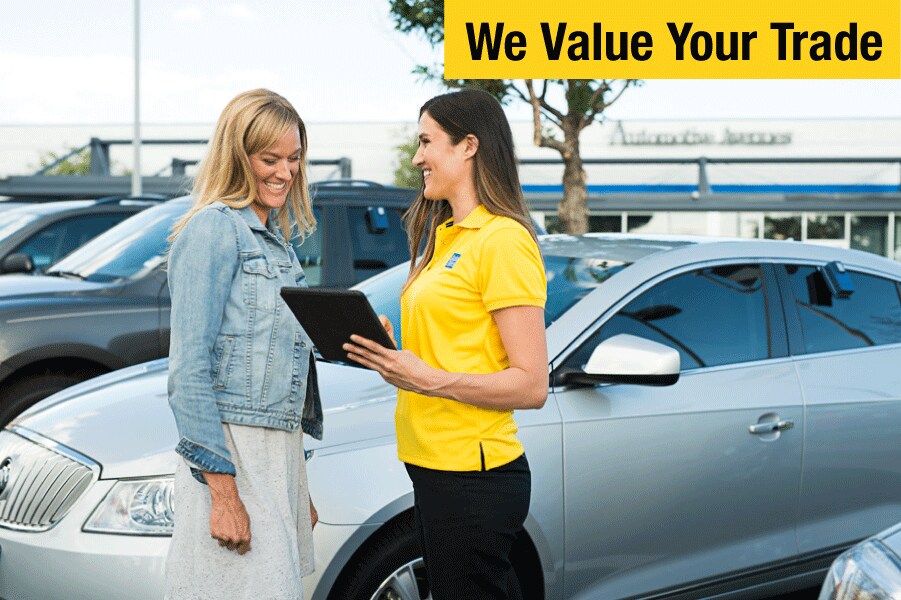 We Value Your Trade-in at Lakewood's Auto Aves Dealership
At Automotive Avenues,
we will buy your car
and  you will receive a fair price for your trade-in. Just bring your vehicle in and we'll make you an offer, in writing, using current buying guides.
Step One: Bring Us Your Car
We provide a free evaluation of your vehicle to include:
A test drive of the vehicle
A complete inspection to check frame, paint, interior and exterior, etc.
Verify age and mileage of vehicle
Step Two: Receive a Written Offer
We will make you an offer in writing using current buying guidelines
An honest, fair written offer
The offer is good for 3 days or 150 miles
If you are ready to sell, we are ready to buy

Step Three: Complete The Sale
You will get your check quickly.
You just need to bring in your vehicle paperwork, keys, any remote controls and other equipment
If you owe money, we will assist you to complete the payoff
If you don't owe money, you can use it for a down payment on a one of our vehicles
Why We Value Your Trade-In
We know that your current car, truck, or SUV has given you years of reliable service, but sometimes it can feel pretty good to try something new and by new we mean used. Our staff is ready to help you find the right vehicle at a great price, but first we need to discuss what to do with your current vehicle. The good news is that with our help, you can get top value for your vehicle to go toward another model of your choice. How do we handle your trade-in?
Selling your Car to Lakewood's Auto Aves pays You Back
To give you the top value for your vehicle, we take a careful evaluation of your car, truck, or SUV to see what condition it is in, how it has aged, and what the mileage says. A vehicle isn't just what the odometer says, so our staff take a look at the rest of the vehicle and help you make the trade. If you owe money on the vehicle, we help with the payoff, and if you don't, we use the value of the vehicle toward a down payment of your next one. With so many ways to assist you in upgrading to a newer model, it pays to contact our staff for a trade-in evaluation. If you aren't looking to trade your vehicle in but still don't have need for it anymore, we can still offer you an evaluation on your vehicle and buy it from you outright. Nothing compares to having extra money in your pocket and our staff knows this, so let us show you the top dollar for your vehicle.
Once our staff has completed an evaluation you can sleep on the offer for up to three days, or 150 miles, so you don't have to worry that you made a decision too quickly. This is just one of the many ways our Lakewood and Denver, Colorado, area customers will love being part of the Auto Aves family and with many other services available to you, you can discover the ease of which all your automotive needs can be taken care of in one convenient location.
Hours
Monday

8:30am - 7:00pm

Tuesday

8:30am - 7:00pm

Wednesday

8:30am - 7:00pm

Thursday

8:30am - 7:00pm

Friday

8:30am - 7:00pm

Saturday

8:30am - 5:30pm

Sunday

Closed