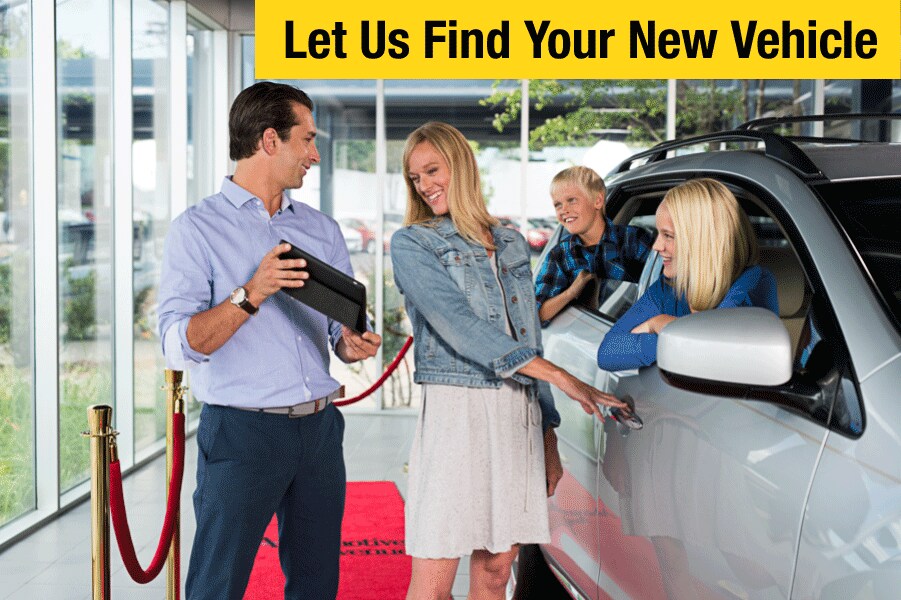 Did you know we can help you find ANY make or model of a NEW vehicle?
Because we have the ability to negotiate for you at "fleet" pricing, we can often times get you a price that's LESS than the new car dealer is offering, AND we can pass along all the available manufacturer incentives to you. The bottom line price we quote you on a new car is inclusive of any extra charges the New Car Dealer may charge, so there won't be any last minute surprises.
Let us do the work for you! Use our
Car Finder
or let one of our advisors find your dream car.
*2014 DealerRater.com Consumer Survey-Used Cars
Let us do all the leg work for you!
We Will:
Consult with you and compare competing makes and models. 

Arrange for multiple test drives in a no hassle environment. 

Negotiate on your behalf for A GREAT PRICE. 
Why not consider ALL of your options, and save time and money.

Did you know that over 50% of car shoppers don't know what they want when they start their search? Our whole business model has been created to help people like you. Search below and learn more about your favorite used makes or models, and if we don't have it here, we'll go find it for you.

Want a NEW car? Let us do all the leg work...we'll arrange for multiple test drives, we'll negotiate and assist with the deal on your behalf, and we'll help you get a deal that's often BETTER than what's offered at the new car dealership. Why not consider both New and Pre-Owned, and compare makes, models, loans and leases (yes, we lease used cars too), side by side in a no hassle, friendly environment? There's a reason why we continue to be rated #1* by consumers in Colorado three years running...WE CARE.